Mr F Hussain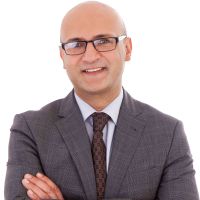 Faisal or "Fraz" has more than fifteen years experience of working as a consultant orthopaedic surgeon at the auspicious Royal Orthopaedic Hospital. He is a specialist in knee and shoulder surgery and the Clinical Services Lead for the arthroscopy department. As a highly specialised centre of excellence they receive referrals of patients from all over the country. 
Fraz's undergraduate training was at the London teaching hospital Charing Cross and Westminster medical school qualifying in 1993.  He completed his specialist orthopaedic training at the University of Leicester teaching hospitals, Trent training programme attaining the Fellowship of the Royal College of Surgeons in Trauma & Orthopaedics in 2006. He went on to achieve dual fellowship training in knee and shoulder surgery.
Fraz has a specialist interest in the treatment of young osteoarthritic knees with procedures such as high tibial and femoral osteotomy, articular cartilage regeneration surgery and partial knee replacements.  The management of sports injuries was a focus of his fellowship training and he performs ACL reconstructions, complex knee multi ligament reconstruction, and arthroscopic meniscal repair. His NHS practice is based at the Royal Orthopaedic Hospital where he performs over 100 total knee replacements a year including the use of Robotic technology as well as complex primary and revision knee arthroplasty surgery.
​He is an Academy Tutor for the University of Birmingham undergraduate training program and an educational supervisor for specialist orthopaedic registrar training in Birmingham.
He works in conjunction with the other members of the Birmingham Knee and Shoulder Clinic and is a member of the Midlands Orthopaedic Practice group. 
Outside work he is a member of Mosley Golf Club where you can often catch him on a Sunday morning working on his