Mr S Hussain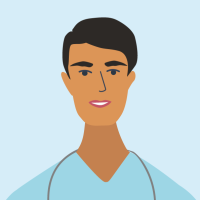 Primary and Revision Hip and Knee arthroplasty / Hip Resurfacing surgeon 
Mr Shakir Hussain is a Consultant Orthopaedic Surgeon at the Royal Orthopaedic Hospital.
Mr Hussain completed basic surgical training in Birmingham and Bristol and the higher speciality training in Trauma and Orthopaedics on the Birmingham Orthopaedic Training Programme. He obtained FRCS (Trauma & Orthopaedic) in 2019 and CCT (Certificate of Completion of Training) in 2020.
Mr Hussain undertook an advanced fellowship in lower limb arthroplasty in well-established centres in the UK, including Nottingham, The Royal Orthopaedic Hospital and North Bristol Trust. The fellowships helped him gain advanced experience in managing complex problems of the hip and knee joints. He was awarded the prestigious British Hip Society travelling fellowship. He visited the ENDO-Klinik Hamburg Germany, a centre of excellence for joint replacements, particularly learned their unique methods of dealing with infected joint replacements.
Mr Hussain is a lower limb arthroplasty surgeon with a special interest in Hip resurfacing arthroplasty. Hip resurfacing is an anatomical and bone-conserving hip surgery for young athletic males with hip arthritis, keen to maintain high level activities including sports. Mr Hussain performs Hip and Knee joint replacement, re-do surgery for failed hip and knee joint replacements, and fixation or replacement of periprosthetic fractures. He also has a special interest in the management of prosthetic joint infections. Mr Hussain uses a variety of hip implants ranging from Birmingham hip resurfacing (BHR) to complex revision prostheses and Endoprosthetic replacements for cases with severe bone loss to improve patients' function and quality of life. He also uses the latest technologies in arthroplasty, i.e. robotic-assisted joint replacement. Mr Hussain also started doing Day case surgery for suitable patients, where patients are safely discharged after a hip or a knee replacement surgery on the same day.
Mr Hussain is a member of various quality improvement committees at The Royal Orthopaedic Hospital, striving to improve service quality and patient satisfaction. He has completed multiple research projects and has been awarded various academic prizes. He has authored a textbook chapter about hip replacement and has published several scientific articles in peer-reviewed journals. Mr Hussain teaches various courses, including ATLS and also training local Orthopaedic trainees.